Embossed panel fencing
Embossed panel fencing
Our product range includes complete fencing systems made of profiled or plain welded mesh panels. All panel versions come with installation posts and fastening accessories.
We manufacture gates and wickets on custom specifications. Our gates are available in double-leaf and sliding versions.
Application
Panel fencing is an enclosure solution with a great number of potential uses. Panel fencing is specifically recommended for enclosures of:
production plants;
warehouse facilities;
stadiums and sport facilities;
schools;
public buildings;
private premises.
Precision in every detail
Technical parameters
Profiled panel fencing – standard sizes
Type
Fence height
[mm]
Post height
[mm]
No. of profile ribs
[mm]
No. of fastening points per mid, end and corner post
Mesh size
[mm]
Wire dia.
ø[mm]
TYPE 2V fencing panels (2V: two reinforcing ribs)
2V
630
1200
2
2
50×200
4,0
lub
5,0
2V
830
1400
2
2
2V
1030
1600
2
2
2V
1130
1800
2
2
2V
1230
1800
2
2
TYPE 3V fencing panels (3V: three reinforcing ribs)
3V
1330
2000
3
3
50×200

4,0
lub
5,0
3V
1430
2000
3
3
3V
1530
2200
3
3
3V
1630
2400
3
3
3V
1730
2400
3
3
3V
1830
2400
3
3
TYPE 4V fencing panels (4V: four reinforcing ribs)
4V
1930
2400
4
4
50×200
4,0
lub
5,0
4V
2030
2600
4
4
4V
2230
2800
4
4
4V
2530
3200
4
4
Production and colours
Our panel fencing solutions are made of galvanized steel wires that can be optionally powder coated, just like the fencing posts, and the powder coating colour is at customer's discretion.
Our fences and posts boast high strength, durability and corrosion resistance. The posts are delivered with PVC caps to seal off the top openings and prevent ingress of water. Our standard powder coating colour palette includes: RAL 6005 (moss green), RAL 7024 (graphite grey), RAL 7016 (anthracite grey), RAL 8017 (chocolate brown), and RAL 9005 (jet black). Other colours are available on custom order.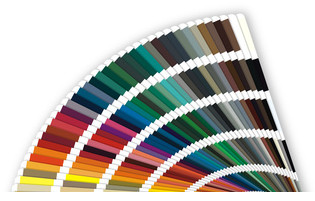 In addition to the standard colors, we offer the choice of other colors from the RAL palette.
Galvanized and powder-coated
Hot-dip galvanizing
Our fencing components are carefully cleaned in multiple stages and protected against corrosion by hot-dip galvanizing.
Hot-dip galvanizing is a process of coating pre-treated parts by immersion in molten zinc held at 450-460°C. This deposition process forms a very strong intermolecular bond between Fe and Zn, which can provide corrosion protection that lasts as much as 15 years. An advantage of this process is the uniform deposition of galvanizing, and the galvanic coat reaches even the most difficult surfaces (e.g. grooves, bends, corners, etc.). The average thickness of a hot-dip galvanized coating is between 50 and 70 µm.
Galvanizing and powder coating
All fencing components are powder coated after galvanizing. Each buyer can choose a powder coating colour from the standard RAL palette.
The powder coating process done by depositing a coat of powdered paint with electrostatic spraying. The electrostatically charged powdered paint particles are deposited on the processed surface. Next, the deposited powder coat is cured in an oven held at 200°C, which produces a paint coat that resists corrosion, chemicals, high temperatures, and mechanical damage.
Installing a fence
Since 2002, SIATPOL has been providing professional fencing installation services. We deliver the installation services in Poland and in the EU countries. Our professional installation team guarantees fast installation with the highest quality of service. This fully assures customer's comfort and satisfaction.
The fencing panels are very easy to install on fence posts: they are fastened with clamps that are adjustable to perfectly align all panels. We provide an end-to-end delivery of every order, complete with essential installation accessories and gates and wickets sized and manufactured on custom order.